gooder llc
Gooder LLC is a BRAND NEW, CHRISTIAN BASED, FAMILY OWNED start up company that will provide HIGH END, TOP QUALITY CLOTHING AND APPAREL WITH ANOINTED POWERFUL DESIGNS, that will BOLDY show your FAITH IN CHRIST JESUS through the POWER OF AGAPE! YOU ARE AND WILL BE BLESSED and also be a "WALKING BILLBOARD" FOR AGAPE! 10% OF ALL SALES GOES BACK INTO GODS HAND MINISTRIES (www.GodsHandMinistries.org) TO PROVIDE WORSHIP MATERIALS – I AM RECOVERED (www.IAMRECOVERED.online), TO JAILS, RECOVERY CENTERS AND CHURCHES. Please check back periodically for our updated gear and designs. We will be introducing more hats, shirts, hoodies and matching sweats as well. Please (as always) keep us in prayer and that we only design and provide what Holy Spirit ask of us, Amen. Agape y'all!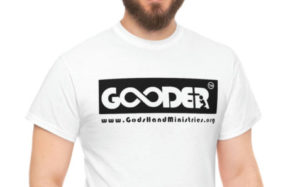 I AM RECOVERED HOODY DO NOT WORRY…
REVELATION 5:5 … DO NOT WORRY! DO NOT WEEP! I AM RECOVERED HOODY WITH THE I AM LION OF JUDAH GRAPHIC. "LION OF JUDAH" WRITTEN ON THE LION AND THE I AM (IAMRECOVERED.ONLINE) CROWN HE IS WEARING. A BOLD HOODY FOR A BOLD LION IN CHRIST JESUS, AMEN.
JOHN 3:16 T-SHIRT
THE ONLY WAY TO LIVE GOODER IS TO HAVE THE ONLY ONE GOOD LIVING ON THE INSIDE, AMEN!
GOD HERE ME!
I AM WHO I AM AND ALL BECAUSE I AM GOD IS ALWAYS HERE IN ME.